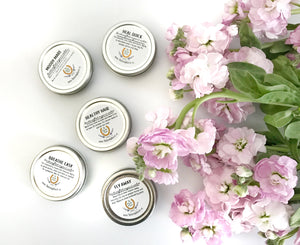 Starter Package
The Starter Kit is fantastic for first time customers. You get to choose any combination of blends from my Originals Line totaling five 1 ounce tins
Choose from:
Heal Quick 

Be Calm

Muscle Soothe

Healthy Hair

Breathe Easy

Fungal Treatment 

Fly Away

Moody Mare 

Please leave your blend choices in the comment section at checkout, you can choose any combination of blends totaling five tins.
If none are entered you will receive one of each of the following: Heal Quick, Be Calm, Muscle Soothe, Healthy Hair, Fungal Treatment Salve. 

Visit my individual listings for detailed info on each blend! 
--As with any new product, please patch test before first use on yourself & animals.--
--Shelf life of ~9 months when stored in a cool place out of direct sunlight--
--EXTERNAL use only. It can be used anywhere externally besides in/around the eyes or in ears. Please don't use on children under 6 years old, they need a milder blend. Please do not use on cats, they are hyper sensitive to essential oils and some can be toxic to cats. Ask Dr. before use if pregnant. 
--These products have not been evaluated by the F.D.A. These products are not meant to diagnose, cure, or treat any disease or aliment.--