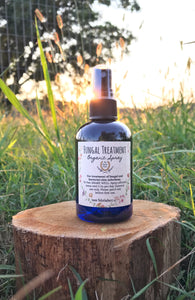 Anti-fungal Treatment Spray
My Fungal Treatment salve works wonders, and this spray will do the same! Fantastic for larger affected areas or places that salve is not desired. This all organic oil blend is anti-fungal, anti-bacterial, anti-inflammatory and soothing. 
Fungal Treatment Spray can treat any bacterial or fungal skin infections on dogs and horses. To use, simply spray the affected areas well 1-2 times per day. Please patch test before first use. 
Absolutely no parabens, alcohol, sulfates, or man made chemicals. 100% Organic Ingredients. Comes in a 4 ounce blue spray bottle, which will last a very long time. 
--As with any new product, please patch test before first use on yourself & animals.--
--Shelf life of ~9 months when stored in a cool place out of direct sunlight--
--EXTERNAL use only. It can be used anywhere externally besides in/around the eyes or in ears. Please don't use on children under 6 years old, they need a milder blend. Please do not use on cats, they are hyper sensitive to essential oils and some can be toxic to cats. Ask Dr. before use if pregnant. 
--These products have not been evaluated by the F.D.A. These products are not meant to diagnose, cure, or treat any disease or aliment.--